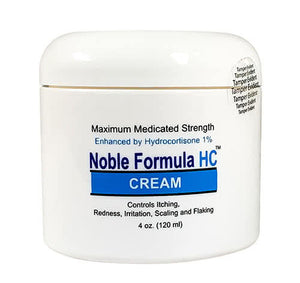 ---
Our original over the counter NF Cream with pyrithione zinc (ZnP) 0.25% enhanced with hydrocortisone 1%. It is a potent non-prescription cream, designed for mild to moderate skin issues or to maintain control between major flare-ups of psoriasis, eczema or seborrheic dermatitis symptoms. Noble Formula-HC is ideal for use on areas of the skin that are particularly sensitive. Apply to affected areas one to three times daily or as directed by your doctor.

ZINC PYRITHIONE
ALMOND OIL
ROSE HIP OIL
HYDROCORTISONE
---
0.25% pyrithione zinc (ZnP); formulated for relief of symptoms of psoriasis, eczema, seborrheic dermatitis and other hyperkeratotic skin conditions
Safe for everyday use with nourishing almond oil, rose hip oil, and vitamin E
Reduces the symptoms of swelling, itching, and redness
Maximum strength non-prescription cream 
Handmade and handcrafted in the USA with only the finest ingredients. We make no compromises for your skin!
Ingredients:
Hydrocortisone 1%, purified water, almond oil, squalane, cyclomethicone, rose hip oil, arachidyl behenyl alcohol & arachidyl glucoside ( a naturally derived emollient), natural vitamin E (d-Alpha-Tocopherol), cetearyl alcohol & cetearyl alcohol glucoside, pyrithione zinc (ZnP) .25%, sodium laurel sulfate, sodium hydroxymethylglycinate (an amino acid derivative), TEA-carbomer.