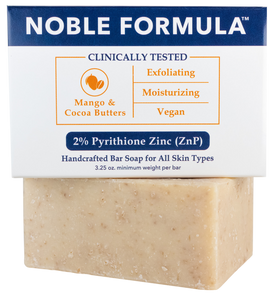 ---
Mango Butter is an ultra-moisturizing anti-inflammatory plant butter containing essential fatty acids and antioxidants. High in linoleic and oleic acid to maintain skin's elasticity and flexibility, and vitamin C to boost collagen production helping skin maintain a smooth, soft, and youthful appearance. Cocoa Butter is also high in antioxidants to aid in fighting free-radical damage to skin, which can cause skin aging, dark patches, and lackluster skin.
KEY INGREDIENTS
---
ZINC PYRITHIONE
 OLIVE OIL
MANGO AND COCOA BUTTER
MILLED OATS
---
Premium quality zinc soap with 2% ZnP provides antifungal and antibacterial benefits
An excellent cleansing bar for everyday use and all skin types. Low comedogenic properties are helpful for acne prone skin
Relieves itching, redness, flaking, and irritation while removing oil, dirt, and debris
Formulated with vegan ingredients;  nourishing olive oil, moisturizing mango and cocoa butters, and gently exfoliating oats
Handmade and handcrafted in the USA with only the finest ingredients. We make no compromises for your skin!
INGREDIENTS:
Saponified olive oil (infused with calendula), saponified mango butter, saponified cocoa butter, milled oats, pyrithione zinc (ZnP) 2%.