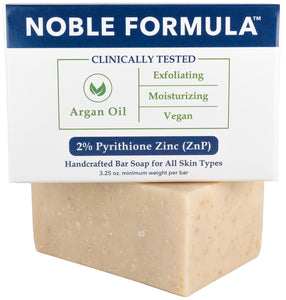 ---
Argan Oil is a multi-tasking moisturizer that's organically grown and naturally chemical-free. As one of the rarest oils in the world, it has earned the nickname, "liquid gold." It's rich in high concentrations of vitamins, minerals and powerful anti-oxidants. Vitamin E and essential fatty acids are argan oil benefits that help hydrate and soften your hair, face, body, nails and everything in between.
KEY INGREDIENTS
---
ZINC PYRITHIONE
  OLIVE OIL
 ARGAN OIL 
    MILLED OATS
---
Pyrithione zinc (ZnP), a form of zinc with antifungal and antibacterial properties bar soap; especially formulated for those with psoriasis, eczema, dry, and sensitive skin
Safe for everyday use with vegan ingredients; nourishing olive oil, moisturizing argan oil, and gently exfoliating oats
Excellent cleansing bar for any skin type or condition
Relieves itching, redness, flaking, and irritation while removing oil, dirt, and debris
Handmade and handcrafted in the USA with only the finest ingredients. We make no compromises for your skin!
INGREDIENTS:
Saponified olive oil, saponified argan oil, milled oats, pyrithione zinc (ZnP) 2%