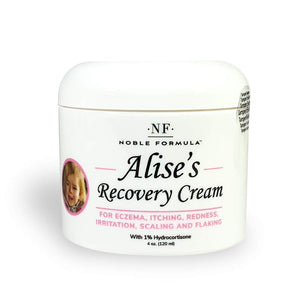 Alise's Recovery Cream by Noble Formula is 5% Ammonium Lactate, 1% Hydrocortisone, 0.125% Pyrithione Zinc (ZnP), formulated for red, itchy, irritated, flaking or scaling skin or to help maintain control between flare-ups of eczema or seborrheic dermatitis symptoms

Hydrating cream specially designed for babies, toddlers, kids, teens, elderly and those with sensitive skin by Richard Faiola MD, creator of Noble Formula

Reduces the symptoms of swelling, itching, and redness; recommended for face and sensitive areas. For best results, use after bathing or on moist skin to lessen the potential of stinging on raw, irritated skin.

Enjoy the natural ingredients, and added benefits of Emu Oil, Almond Oil, Rose Hip Oil, and Grapefruit Seed Extract for your skin

Manufactured with Care in the USA, Not Tested on Animals
Ingredients:
Hydrocortisone 1%, purified water, ammonium lactate, emu oil, vegetable emulsifying wax, padimate O, cetyl alcohol, almond oil, squalane, glycerin, cyclomethicone, rose hip oil (cold pressed), natural vitamin E & mixed tocopherols, stearic acid, pyrithione zinc (ZnP) 0.125%, hydroxymethylglycinate, TEA-carbomer, grapefruit see extract, green tea fragrance and oil (camellia sinensis seed).